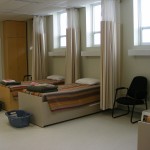 Short-term residential crisis support beds are available to people aged 16 and over, experiencing, or at a perceived risk of developing unstable addiction, concurrent disorder or mental health symptom (i.e: relapse/episode) who may also  have, or could come into conflit with the law and
 is perceived at risk of being charged by police, or
 has been charged by the police, or
 have been found unfit to stand trial, not criminally responsible, or are on an Ontario Review Board  Disposition and,
whose offense is considered low risk and whose addiction/mental health symptoms can be appropriately managed through services based in the community
GOALS
In collaboration with other services within and across human service systems, the general focus of safe-beds includes achievement of the following:
Reducing the number of individuals with addiction, mental health, or concurrent disorders from entering and/or reducing their length of involvement with the criminal justice system and hospital-based services.
Providing access to appropriate levels of health care closer to home and support systems.
SAFE-BEDS AIM TO PROVIDE THE FOLLOWING
a temporary address, housing & related support services
time to arrange funding for unmet needs
high intensity care, counseling & support
a safe, secure and therapeutic environment to allow for stabilization and management of addiction and/or mental health symptoms (including, where resources permit, medication management)
follow-up & referral to appropriate services
HOW TO APPLY
Presently,  "self-referrals" must telephone us at 705-268-2666 Ext: 228 before presenting themselves at the safe bed unit.
Direct referrals  are preferred.  Hospital, community-based addiction, concurrent disorders and mental health services and the primary health care sector should screen clients with the safe-bed screening tool. Please contact us for a copy of this document.. Referral sources should call ahead to ensure bed availability and forward us, by fax, the completed screening tool. Jubilee Centre will review the information and confirm the admission to the Safe-bed.
COMING TO THE SAFE-BED
Wherever possible, referred clients should be accompanied by an employee, a volunteer or a significant other to the Safe Bed Unit.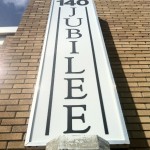 Please call us at 705-268-2666 for more information and to refer a client to the safe-bed.
Click here for the Inclusion and Exclusion Criteria for Safe-Bed Clients
Professional referral organizations may click here for a copy of the Safe Bed Screening Tool