Short Term Residential Crisis Support Services
Days/Hours of Operation: Open 24/7
Contact:  705-268-2666 ext. 228
As part of the provincial diversion and service enhancement strategy this program is designed to divert (pre & post-charge) clients with clinical needs in actual or emergent addiction & or mental health crisis away from the criminal justice and hospital based systems.
Services Offered in the Safe Bed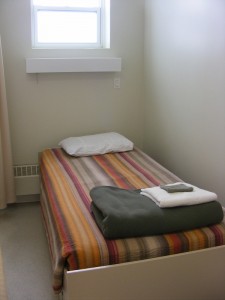 provision of temporary housing and related support services
time to arrange funding for unmet client needs
high intensity counselling
care and support
a safe therapeutic environment to allow for stabilization and management of addiction relapse symptoms and/or mental health symptoms/ crisis situation
appropriate medication management (where applicable)
liaison, referral and follow-up

Eligible Clients for Safe Bed Care
Males and females over the age of 16
Mainly from Timmins but also from other areas
With a mental health crisis or relapse and/or
In actual or emergent addiction crisis and/or
In conflict with the criminal justice system
The Safe Bed Welcomes and Includes People:
Whose clinical condition has destabilized/deteriorated into addiction/mental health crisis/relapse state or, is at imminent risk of destabilizing/deteriorating into addition/mental health crisis/relapse state, or
Who have been or are perceived at risk of being charged by police, or
Who have been found unfit to stand trial, not criminally responsible, or are on an Ontario review board disposition and
Whose offence is considered low risk and whose clinical symptoms can be appropriately managed through community-based (as opposed to hospital-based) services
The Safe Bed Excludes People:
Individuals whose offence is considered high risk.
People who are at high risk for acute/potential medical/psychiatric complications
Individuals who need immediate medial attention and should be referred promptly to Timmins and District Hospital: E.R.
For a quick tour of the safe bed center, click here: Tour of the Crisis Safe Bed Centre
Testimonal